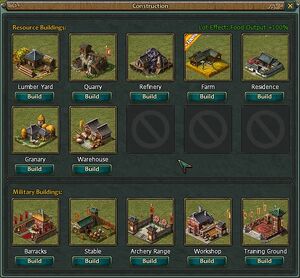 Click on a vacant plot and choose a building type to automatically begin construction.
Resource-output buildings built on their corresponding specialty plots will have double output.
Plot effects can be seen in the upper right corner of the building interface.

After selecting a Specialty Plot you will see a plus sign on the corresponding building icon to remind you of the resource output bonus.
Lumber Yard
Edit
The Lumber Yard is where all Wood is produced. The higher the level of the Lumber Yard the more Wood it will produce in a given time.
Wood Output /h

Lv. 1: 10
Lv. 2: 20
Lv. 3: 50
Lv. 4: 90
Lv. 5: 140
Lv. 6: 200
Lv. 7: 260
Lv. 8: 340
Lv. 9: 420
Lv. 10: 520

Lv. 11: 630
Lv. 12: 740
Lv. 13: 860
Lv. 14: 1000
Lv. 15: 1140
Lv. 16: 1290
Lv. 17: 1450
Lv. 18: 1630
Lv. 19: 1810
Lv. 20: 2000

Upgrade Costs

Wood / Stone / Iron / Food

Lv.1: 10 / 35 / 15 / 40
Lv.2: 20 / 70 / 30 / 80
Lv.3: 30 / 105 / 45 / 120
Lv.4: 40 / 140 / 60 / 160
Lv.5: 50 / 175 / 75 / 200
Lv.6: 80 / 280 / 120 / 320
Lv.7: 170 / 595 / 255 / 680
Lv.8: 300 / 1050 / 450 / 1200
Lv.9: 600 / 2100 / 900 / 2400
Lv.10: 1100 / 3850 / 1650 / 4400

Wood / Stone / Iron / Food

Lv.11: 1800 / 6300 / 2700 / 7200
Lv.12: 2700 / 9450 / 4050 / 10800
Lv.13: 4100 / 14350 / 6150 / 16400
Lv.14: 5800 / 20300 / 8700 / 23200
Lv.15: 8000 / 28000 / 12000 / 32000
Lv.16: 12000 / 42000 / 18000 / 48000
Lv.17: 18600 / 65100 / 27900 / 74400
Lv.18: 31100 / 108850 / 46650 / 124400
Lv.19: 53300 / 186550 / 79950 / 213200
Lv.20: 95000 / 332500 / 142500 / 380000

Duration of Upgrade:

Lv.1:
Lv.2:
Lv.3:
Lv.4:
Lv.5:
Lv.6:
Lv.7:
Lv.8:
Lv.9:
Lv.10:

Lv.11:
Lv.12:
Lv.13:
Lv.14:
Lv.15:
Lv.16:
Lv.17:
Lv.18:
Lv.19:
Lv.20:
The Quarry is where all Stone is produced. The higher the level of the Quarry the more Stone it will produce in a given time.
Stone Output /h


Lv. 1: 10
Lv. 2: 20
Lv. 3: 50
Lv. 4: 90
Lv. 5: 140
Lv. 6: 200
Lv. 7: 260
Lv. 8: 340
Lv. 9: 420
Lv. 10: 520

Lv. 11: 630
Lv. 12: 740
Lv. 13: 860
Lv. 14: 1000
Lv. 15: 1140
Lv. 16: 1290
Lv. 17: 1450
Lv. 18: 1630
Lv. 19: 1810
Lv. 20: 2000

Upgrade Costs

Wood / Stone / Iron / Food

Lv.1: 30 / 20 / 40 / 10
Lv.2: 60 / 40 / 80 / 20
Lv.3: 90 / 60 / 120 / 30
Lv.4: 120 / 80 / 160 / 40
Lv.5: 150 / 100 / 200 / 50
Lv.6: 240 / 160 / 320 / 80
Lv.7: 510 / 340 / 680 / 170
Lv.8: 900 / 600 / 1200 / 300
Lv.9: 1800 / 1200 / 2400 / 600
Lv.10: 3300 / 2200 / 4400 / 1100

Wood / Stone / Iron / Food

Lv.11: 5400 / 3600 / 7200 / 1800

Lv.12: 8100 / 5400 / 10800 / 2700

Lv.13: 12300 / 8200 / 16400 / 4100
Lv.14: 17400 / 11600 / 23200 / 5800

Lv.15: 24000 / 16000 / 32000 / 8000

Lv.16: 36000 / 24000 / 48000 / 12000

Lv.17: 55800 / 37200 / 74400 / 18600

Lv.18: 93300 / 62200 / 124400 / 31100
Lv.19: 159900 / 106600 / 213200 / 53300
Lv.20: 285000 / 190000 / 380000 / 95000

Duration of Upgrade:

Lv.1:
Lv.2:
Lv.3:
Lv.4:
Lv.5:
Lv.6:
Lv.7:
Lv.8:
Lv.9:
Lv.10:

Lv.11:
Lv.12:
Lv.13:
Lv.14:
Lv.15:
Lv.16:
Lv.17:
Lv.18:
Lv.19:
Lv.20:
The Refinery is where all Iron is produced. The higher the level of the Refinery the more Iron it will produce in a given time.
Iron Output /h


Lv. 1: 10
Lv. 2: 20
Lv. 3: 50
Lv. 4: 90
Lv. 5: 140
Lv. 6: 200
Lv. 7: 260
Lv. 8: 340
Lv. 9: 420
Lv. 10: 520

Lv. 11: 630
Lv. 12: 740
Lv. 13: 860
Lv. 14: 1000
Lv. 15: 1140
Lv. 16: 1290
Lv. 17: 1450
Lv. 18: 1630
Lv. 19: 1810
Lv. 20: 2000

Upgrade Costs

Wood / Stone / Iron / Food

Lv.1: 20 / 40 / 10 / 30
Lv.2: 40 / 80 / 20 / 60
Lv.3: 60 / 120 / 30 / 90
Lv.4: 80 / 160 / 40 / 120
Lv.5: 100 / 200 / 50 / 150
Lv.6: 160 / 320 / 80 / 240
Lv.7: 340 / 680 / 170 / 510
Lv.8: 600 / 1200 / 300 / 900
Lv.9: 1200 / 2400 / 600 / 1800
Lv.10: 2200 / 4400 / 1100 / 3300

Wood / Stone / Iron / Food

Lv.11: 3600 / 7200 / 1800 / 5400

Lv.12: 5400 / 10800 / 2700 / 8100

Lv.13: 8200 / 16400 / 4100 / 12300
Lv.14: 11600 / 23200 / 5800 / 17400

Lv.15: 16000 / 32000 / 8000 / 24000

Lv.16: 24000 / 48000 / 12000 / 36000

Lv.17: 37200 / 74400 / 18600 / 55800

Lv.18: 62200 / 124400 / 31100 / 93300
Lv.19: 106600 / 213200 / 53300 / 159000
Lv.20: 190000 / 380000 / 95000 / 285000

Duration of Upgrade:

Lv.1:
Lv.2:
Lv.3:
Lv.4:
Lv.5:
Lv.6:
Lv.7:
Lv.8:
Lv.9:
Lv.10:

Lv.11:
Lv.12:
Lv.13:
Lv.14:
Lv.15:
Lv.16:
Lv.17:
Lv.18:
Lv.19:
Lv.20:
The Farm is where all Food is produced. The higher the level of the Farm the more Food it will produce in a given time.
Food Output /h


Lv. 1: 10
Lv. 2: 20
Lv. 3: 50
Lv. 4: 90
Lv. 5: 140
Lv. 6: 200
Lv. 7: 260
Lv. 8: 340
Lv. 9: 420
Lv. 10: 520

Lv. 11: 630
Lv. 12: 740
Lv. 13: 860
Lv. 14: 1000
Lv. 15: 1140
Lv. 16: 1290
Lv. 17: 1450
Lv. 18: 1630
Lv. 19: 1810
Lv. 20: 2000

Upgrade Costs

Wood / Stone / Iron / Food

Lv.1: 30 / 30 / 30 / 10
Lv.2: 60 / 60 / 60 / 20
Lv.3: 90 / 90 / 90 / 30
Lv.4: 120 / 120 / 120 / 40
Lv.5: 150 / 150 / 150 / 50
Lv.6: 240 / 240 / 240 / 80
Lv.7: 510 / 510 / 510 / 170
Lv.8: 900 / 900 / 900 / 300
Lv.9: 1800 / 1800 / 1800 / 600
Lv.10: 3300 / 3300 / 3300 / 1100

Wood / Stone / Iron / Food

Lv.11: 5400 / 5400 / 5400 / 1800

Lv.12: 8100 / 8100 / 8100 / 2700

Lv.13: 12300 / 12300 / 12300 / 4100
Lv.14: 17400 / 17400 / 17400 / 5800

Lv.15: 24000 / 24000 / 24000 / 8000

Lv.16: 36000 / 36000 / 36000 / 12000
Lv.17: 55800 / 55800 / 55800 / 18600
Lv.18: 93300 / 93300 / 93300 / 31100
Lv.19: 159900 / 159900 / 159900 / 53300
Lv.20: 285000 / 285000 / 285000 / 95000

Duration of Upgrade:

Lv.1:
Lv.2:
Lv.3:
Lv.4:
Lv.5:
Lv.6:
Lv.7:
Lv.8:
Lv.9:
Lv.10:

Lv.11:
Lv.12:
Lv.13:
Lv.14:
Lv.15:
Lv.16:
Lv.17:
Lv.18:
Lv.19:
Lv.20:
Residence
Edit
Residences pay taxes to the Manor. The higher the level of the residence, the more Silver it will produce from taxes in a given time.
Silver Output /h


Lv. 1: 3
Lv. 2: 7
Lv. 3: 15
Lv. 4: 30
Lv. 5: 45
Lv. 6: 70
Lv. 7: 90
Lv. 8: 115
Lv. 9: 145
Lv. 10: 180

Lv. 11: 220
Lv. 12: 255
Lv. 13: 300
Lv. 14: 350
Lv. 15: 395
Lv. 16:
Lv. 17:
Lv. 18:
Lv. 19:
Lv. 20: 700

Upgrade Costs

Wood / Stone / Iron / Food

Lv.1: 25 / 25 / 25 / 25
Lv.2: 50 / 50 / 50 / 50
Lv.3: 75 / 75 / 75 / 75
Lv.4: 100 / 100 / 100 / 100
Lv.5: 125 / 125 / 125 / 125
Lv.6: 400 / 400 / 400 / 400
Lv.7: 850 / 850 / 850 / 850
Lv.8: 1500 / 1500 / 1500 / 1500
Lv.9: 3000 / 3000 / 3000 / 3000
Lv.10: 5500 / 5500 / 5500 / 5500

Wood / Stone / Iron / Food

Lv.11: 9000 / 9000 / 9000 / 9000

Lv.12: 13500 / 13500 / 13500 / 13500

Lv.13: 20500 / 20500 / 20500 / 20500
Lv.14: 29000 / 29000 / 29000 / 29000

Lv.15: 40000 / 40000 / 40000 / 40000

Lv.16: 60000 / 60000 / 60000 / 60000

Lv.17: 93000 / 93000 / 93000 / 93000

Lv.18: 155500 / 155500 / 155500 / 155500
Lv.19: 266500 / 266500 / 266500 / 266500
Lv.20: 475000 / 475000 / 475000 / 475000

Duration of Upgrade:

Lv.1:
Lv.2:
Lv.3:
Lv.4:
Lv.5:
Lv.6:
Lv.7:
Lv.8:
Lv.9:
Lv.10:

Lv.11:
Lv.12:
Lv.13:
Lv.14:
Lv.15:
Lv.16:
Lv.17:
Lv.18:
Lv.19:
Lv.20:
Warehouse
Edit
Stores Iron, Stone and Wood produced by the Manor. The higher the level, the greater the storage capacity.
Warehouse Capacity


Lv. 1: 30000
Lv. 2: 60000
Lv. 3: 90000
Lv. 4: 120000
Lv. 5: 150000
Lv. 6: 180000
Lv. 7: 210000
Lv. 8: 240000
Lv. 9: 270000
Lv. 10: 384000

Lv. 11: 504000
Lv. 12: 624000
Lv. 13: 768000
Lv. 14: 912000
Lv. 15: 1080000
Lv. 16: 1392000
Lv. 17: 1872000
Lv. 18: 2712000
Lv. 19: 4080000
Lv. 20: 6432000

Upgrade Costs

Wood / Stone / Iron / Food




Lv.1: 52 / 37 / 37 / 22
Lv.2: 105 / 75 / 75 / 45
Lv.3: 157 / 112 / 112 / 67
Lv.4: 210 / 150 / 150 / 90
Lv.5: 262 / 187 / 187 / 112
Lv.6: 420 / 300 / 300 / 180
Lv.7: 893 / 637 / 637 / 382
Lv.8: 1575 / 1125 / 1125 / 675
Lv.9: 3150 / 2250 / 2250 / 1350
Lv.10: 5775 / 4125 / 4125 / 2475

Wood / Stone / Iron / Food




Lv.11: 9450 / 6750 / 6750 / 4050

Lv.12: 14175 / 10125 / 10125 / 6075

Lv.13: 21525 / 15375 / 15375 / 9225
Lv.14: 30450 / 21750 / 21750 / 13050

Lv.15: 42000 / 30000 / 30000 / 18000

Lv.16: 63000 / 45000 / 45000 / 27000

Lv.17: 97650 / 69750 / 69750 / 41850

Lv.18: 163275 / 116625 / 116625 / 69975
Lv.19: 279825 / 199875 / 199875 / 119925
Lv.20: 498750 / 356250 / 356250 / 213750

Duration of Upgrade:

Lv.1:
Lv.2:
Lv.3:
Lv.4:
Lv.5:
Lv.6:
Lv.7:
Lv.8:
Lv.9:
Lv.10:

Lv.11:
Lv.12:
Lv.13:
Lv.14:
Lv.15:
Lv.16:
Lv.17:
Lv.18:
Lv.19:
Lv.20:
Stores all Food in the Manor. The higher the level, the greater the storage capacity.
Granary Capacity


Lv. 1: 10000
Lv. 2: 20000
Lv. 3: 30000
Lv. 4: 40000
Lv. 5: 50000
Lv. 6: 60000
Lv. 7: 84000
Lv. 8: 117600
Lv. 9: 184800
Lv. 10: 268800

Lv. 11: 352800
Lv. 12: 436800
Lv. 13: 537600
Lv. 14: 638400
Lv. 15: 756000
Lv. 16: 974400
Lv. 17: 1310400
Lv. 18: 1898400
Lv. 19: 2856000
Lv. 20: 4502400

Upgrade Costs

Wood / Stone / Iron / Food

Lv.1: 45 / 37 / 30 / 37
Lv.2: 90 / 75 / 60 / 75

Lv.3: 135 / 112 / 90 / 112

Lv.4: 180 / 150 / 120 / 150
Lv.5: 225 / 187 / 150 / 187
Lv.6: 360 / 300 / 240 / 300

Lv.7: 765 / 637 / 510 / 637

Lv.8: 1350 / 1125 / 900 / 1125
Lv.9: 2700 / 2250 / 1800 / 2250

Lv.10: 4950 / 4125 / 3300 / 4125

Wood / Stone / Iron / Food

Lv.11: 8100 / 6750 / 5400 / 6750

Lv.12: 12150 / 10125 / 8100 / 10125

Lv.13: 18450 / 15375 / 12300 / 15375

Lv.14: 26100 / 21750 / 17400 / 21750

Lv.15: 36000 / 30000 / 24000 / 30000

Lv.16: 54000 / 45000 / 36000 / 45000

Lv.17: 83700 / 69750 / 55800 / 69750

Lv.18: 139950 / 116625 / 93300 / 116625

Lv.19: 239850 / 199875 / 159900 / 199875
Lv.20: 427500 / 356250 / 285000 / 356250

Duration of Upgrade:

Lv.1:
Lv.2:
Lv.3:
Lv.4:
Lv.5:
Lv.6:
Lv.7:
Lv.8:
Lv.9:
Lv.10:

Lv.11:
Lv.12:
Lv.13:
Lv.14:
Lv.15:
Lv.16:
Lv.17:
Lv.18:
Lv.19:
Lv.20:
Infantry are recruited at the Barracks. As the level of your Barrack increases, the recruit time will decrease significantly.
Decrease Infantry Recruit Time


Lv. 1: 1.5 %

Lv. 2: 3 %

Lv. 3: 4.5 %

Lv. 4: 6 %

Lv. 5: 7.5 %

Lv. 6: 9 %

Lv. 7: 10.5 %

Lv. 8: 12 %

Lv. 9: 13.5 %

Lv. 10: 15 %

Lv. 11: 16.5 %

Lv. 12: 18 %

Lv. 13: 19.5 %

Lv. 14: 21 %

Lv. 15: 22.5 %

Lv. 16: 24 %

Lv. 17: 25.5 %

Lv. 18: 27 %

Lv. 19: 28.5 %

Lv. 20: 30 %

Upgrade Costs

Wood / Stone / Iron / Food

Lv.1: 40 / 30 / 60 / 70
Lv.2: 80 / 60 / 120 / 140
Lv.3: 120 / 90 / 180 / 210
Lv.4: 160 / 120 / 240 / 280
Lv.5: 200 / 150 / 300 / 350
Lv.6: 320 / 240 / 480 / 560
Lv.7: 680 / 510 / 1020 / 1190
Lv.8: 1200 / 900 / 1800 / 2100
Lv.9: 2400 / 1800 / 3600 / 4200
Lv.10: 4400 / 3300 / 6600 / 7700

Wood / Stone / Iron / Food

Lv.11: 7200 / 5400 / 10800 / 12600

Lv.12: 10800 / 8100 / 16200 / 18900

Lv.13: 16400 / 12300 / 24600 / 28700
Lv.14: 23200 / 17400 / 34800 / 40600

Lv.15: 32000 / 24000 / 48000 / 56000

Lv.16: 48000 / 36000 / 72000 / 84000

Lv.17: 74400 / 55800 / 111600 / 130200

Lv.18: 124400 / 93300 / 186600 / 217700
Lv.19: 213200 / 159900 / 319800 / 373100
Lv.20: 380000 / 285000 / 570000 / 665000

Duration of Upgrade:

Lv.1:
Lv.2:
Lv.3:
Lv.4:
Lv.5:
Lv.6:
Lv.7:
Lv.8:
Lv.9:
Lv.10:

Lv.11:
Lv.12:
Lv.13:
Lv.14:
Lv.15:
Lv.16:
Lv.17:
Lv.18:
Lv.19:
Lv.20:
Cavalry are recruited at the Stable. As the level of your Stable increases, the recruit time will decrease significantly.
Decrease Cavalry Recruit Time


Lv. 1: 1.5 %

Lv. 2: 3 %

Lv. 3: 4.5 %

Lv. 4: 6 %

Lv. 5: 7.5 %

Lv. 6: 9 %

Lv. 7: 10.5 %

Lv. 8: 12 %

Lv. 9: 13.5 %

Lv. 10: 15 %

Lv. 11: 16.5 %

Lv. 12: 18 %

Lv. 13: 19.5 %

Lv. 14: 21 %

Lv. 15: 22.5 %

Lv. 16: 24 %

Lv. 17: 25.5 %

Lv. 18: 27 %

Lv. 19: 28.5 %

Lv. 20: 30 %

Upgrade Costs

Wood / Stone / Iron / Food

Lv.1: 15 / 30 / 60 / 45
Lv.2: 30 / 60 / 120 / 90
Lv.3: 45 / 90 / 180 / 135
Lv.4: 60 / 120 / 240 / 180
Lv.5: 75 / 150 / 300 / 225
Lv.6: 120 / 240 / 480 / 360
Lv.7: 255 / 510 / 1020 / 765
Lv.8: 450 / 900 / 1800 / 1350
Lv.9: 900 / 1800 / 3600 / 2700
Lv.10: 1650 / 3300 / 6600 / 4950

Wood / Stone / Iron / Food

Lv.11: 2700 / 5400 / 10800 / 8100

Lv.12: 4050 / 8100 / 16200 / 12150

Lv.13: 6150 / 12300 / 24600 / 18450
Lv.14: 8700 / 17400 / 34800 / 26100

Lv.15: 12000 / 24000 / 48000 / 36000

Lv.16: 18000 / 36000 / 72000 / 54000

Lv.17: 27900 / 55800 / 111600 / 83700

Lv.18: 46650 / 93300 / 186600 / 139950
Lv.19: 79950 / 159900 / 319800 / 239850
Lv.20: 142500 / 285000 / 570000 / 427500

Duration of Upgrade:

Lv.1:
Lv.2:
Lv.3:
Lv.4:
Lv.5:
Lv.6:
Lv.7:
Lv.8:
Lv.9:
Lv.10:

Lv.11:
Lv.12:
Lv.13:
Lv.14:
Lv.15:
Lv.16:
Lv.17:
Lv.18:
Lv.19:
Lv.20:
Archery Range
Edit
Archers are recruited at the Archery. As the level of your Archery increases, the recruiting time will decrease significantly.
Decrease Archer Recruit Time


Lv. 1: 1.5 %

Lv. 2: 3 %

Lv. 3: 4.5 %

Lv. 4: 6 %

Lv. 5: 7.5 %

Lv. 6: 9 %

Lv. 7: 10.5 %

Lv. 8: 12 %

Lv. 9: 13.5 %

Lv. 10: 15 %

Lv. 11: 16.5 %

Lv. 12: 18 %

Lv. 13: 19.5 %

Lv. 14: 21 %

Lv. 15: 22.5 %

Lv. 16: 24 %

Lv. 17: 25.5 %

Lv. 18: 27 %

Lv. 19: 28.5 %

Lv. 20: 30 %

Upgrade Costs

Wood / Stone / Iron / Food

Lv.1: 22 / 45 / 30 / 52
Lv.2: 45 / 90 / 60 / 105
Lv.3: 67 / 135 / 90 / 158
Lv.4: 90 / 180 / 120 / 210
Lv.5: 112 / 225 / 150 / 263
Lv.6: 180 / 360 / 240 / 420
Lv.7: 382 / 765 / 510 / 893
Lv.8: 675 / 1350 / 900 / 1575
Lv.9: 1350 / 2700 / 1800 / 3150
Lv.10: 2475 / 4950 / 3300 / 5775

Wood / Stone / Iron / Food

Lv.11: 4050 / 8100 / 5400 / 9450

Lv.12: 6075 / 12150 / 8100 / 14175

Lv.13: 9225 / 18450 / 12300 / 21525
Lv.14: 13050 / 26100 / 17400 / 30450

Lv.15: 18000 / 36000 / 24000 / 42000

Lv.16: 27000 / 54000 / 36000 / 63000

Lv.17: 41850 / 83700 / 55800 / 97650

Lv.18: 69975 / 139950 / 93300 / 163275
Lv.19: 119925 / 239850 / 159900 / 279825
Lv.20: 213750 / 427500 / 285000 / 498750

Duration of Upgrade:

Lv.1:
Lv.2:
Lv.3:
Lv.4:
Lv.5:
Lv.6:
Lv.7:
Lv.8:
Lv.9:
Lv.10:

Lv.11:
Lv.12:
Lv.13:
Lv.14:
Lv.15:
Lv.16:
Lv.17:
Lv.18:
Lv.19:
Lv.20:
The Craftsmen Workshop is where Siege Weapons are built. As the level of your Craftsmen Workshop increases, building time will decrease
Decrease Siege Recruit Time


Lv. 1: 1.5 %

Lv. 2: 3 %

Lv. 3: 4.5 %

Lv. 4: 6 %

Lv. 5: 7.5 %

Lv. 6: 9 %

Lv. 7: 10.5 %

Lv. 8: 12 %

Lv. 9: 13.5 %

Lv. 10: 15 %

Lv. 11: 16.5 %

Lv. 12: 18 %

Lv. 13: 19.5 %

Lv. 14: 21 %

Lv. 15: 22.5 %

Lv. 16: 24 %

Lv. 17: 25.5 %

Lv. 18: 27 %

Lv. 19: 28.5 %

Lv. 20: 30 %

Upgrade Costs

Wood / Stone / Iron / Food

Lv.1: 22 / 60 / 30 / 37
Lv.2: 45 / 120 / 60 / 75
Lv.3: 67 / 180 / 90 / 112
Lv.4: 90 / 240 / 120 / 150
Lv.5: 112 / 300 / 150 / 187
Lv.6: 180 / 480 / 240 / 300
Lv.7: 382 / 1020 / 510 / 637
Lv.8: 675 / 1800 / 900 / 1125
Lv.9: 1350 / 3600 / 1800 / 2250
Lv.10: 2475 / 6600 / 3300 / 4125

Wood / Stone / Iron / Food

Lv.11: 4050 / 10800 / 5400 / 6750

Lv.12: 6075 / 16200 / 8100 / 10125

Lv.13: 9225 / 24600 / 12300 / 15375
Lv.14: 13050 / 34800 / 17400 / 21750

Lv.15: 18000 / 48000 / 24000 / 30000

Lv.16: 27000 / 72000 / 36000 / 45000

Lv.17: 41850 / 111600 / 55800 / 69750

Lv.18: 69975 / 186600 / 93300 / 116625
Lv.19: 119925 / 319800 / 159900 / 199875
Lv.20: 213750 / 570000 / 285000 / 356250

Duration of Upgrade:

Lv.1:
Lv.2:
Lv.3:
Lv.4:
Lv.5:
Lv.6:
Lv.7:
Lv.8:
Lv.9:
Lv.10:

Lv.11:
Lv.12:
Lv.13:
Lv.14:
Lv.15:
Lv.16:
Lv.17:
Lv.18:
Lv.19:
Lv.20:
Training Ground
Edit
The Training Ground is where citizens become soldiers. Increasing the level of your Training Ground will result in faster recruit times for Infantry, Cavalry, Archers and Siege Weapon Units.
Decrease Recruit Time


Lv. 1: 1 %

Lv. 2: 2 %

Lv. 3: 3 %

Lv. 4: 4 %

Lv. 5: 5 %

Lv. 6: 6 %

Lv. 7: 7 %

Lv. 8: 8 %

Lv. 9: 9 %

Lv. 10: 10 %

Lv. 11: 11 %

Lv. 12: 12 %

Lv. 13: 13 %

Lv. 14: 14 %

Lv. 15: 15 %

Lv. 16: 16 %

Lv. 17: 17 %

Lv. 18: 18 %

Lv. 19: 19 %

Lv. 20: 20 %

Upgrade Costs

Wood / Stone / Iron / Food

Lv.1: 90 / 90 / 30 / 90
Lv.2: 180 / 180 / 60 / 180
Lv.3: 270 / 270 / 90 / 270
Lv.4: 360 / 360 / 120 / 360
Lv.5: 450 / 450 / 150 / 450
Lv.6: 720 / 720 / 240 / 720
Lv.7: 1530 / 1530 / 510 / 1530
Lv.8: 2700 / 2700 / 900 / 2700
Lv.9: 5400 / 5400 / 1800 / 5400
Lv.10: 9900 / 9900 / 3300 / 9900

Wood / Stone / Iron / Food

Lv.11: 16200 / 16200 / 5400 / 16200

Lv.12: 24300 / 24300 / 8100 / 24300

Lv.13: 36900 / 36900 / 12300 / 36900
Lv.14: 52200 / 52200 / 17400 / 52200

Lv.15: 72000 / 72000 / 24000 / 72000

Lv.16: 108000 / 108000 / 36000 / 108000

Lv.17: 167400 / 167400 / 55800 / 167400

Lv.18: 279900 / 279900 / 93300 / 279900
Lv.19: 479700 / 479700 / 159900 / 479700
Lv.20: 855000 / 855000 / 285000 / 855000

Duration of Upgrade:

Lv.1:
Lv.2:
Lv.3:
Lv.4:
Lv.5:
Lv.6:
Lv.7:
Lv.8:
Lv.9:
Lv.10:

Lv.11:
Lv.12:
Lv.13:
Lv.14:
Lv.15:
Lv.16:
Lv.17:
Lv.18:
Lv.19:
Lv.20:
The Citadel is the core of the Manor. Only after you've built a Citadel can you begin to truly develop your manor. The higher the level of your Citadel, the shorter your building time.
Decrease all Construction Time


Lv. 1: 2.5 %

Lv. 2: 5 %

Lv. 3: 7.5 %

Lv. 4: 10 %

Lv. 5: 12.5 %

Lv. 6: 15 %

Lv. 7: 17.5 %

Lv. 8: 20 %

Lv. 9: 22.5 %

Lv. 10: 25 %

Lv. 11: 27.5 %

Lv. 12: 30 %

Lv. 13: 32.5 %

Lv. 14: 35 %

Lv. 15: 37.5 %

Lv. 16: 40 %

Lv. 17: 42.5 %

Lv. 18: 45 %

Lv. 19: 47.5 %

Lv. 20: 50 %

Upgrade Costs

Wood / Stone / Iron / Food

Lv.2: 15 / 30 / 25 / 30
Lv.3: 22 / 45 / 37 / 45
Lv.4: 30 / 60 / 50 / 60
Lv.5: 37 / 75 / 62 / 75
Lv.6: 60 / 120 / 100 / 120
Lv.7: 127 / 255 / 212 / 255
Lv.8: 225 / 450 / 375 / 450
Lv.9: 450 / 900 / 750 / 900
Lv.10: 825 / 1650 / 1375 / 1650

Wood / Stone / Iron / Food

Lv.11: 1350 / 2700 / 2250 / 2700

Lv.12: 2025 / 4050 / 3375 / 4050

Lv.13: 3075 / 6150 / 5125 / 6150
Lv.14: 4350 / 8700 / 7250 / 8700

Lv.15: 6000 / 12000 / 10000 / 12000

Lv.16: 9000 / 18000 / 15000 / 18000

Lv.17: 13950 / 27900 / 23250 / 27900

Lv.18: 23325 / 46650 / 38875 / 46650
Lv.19: 39975 / 79950 / 66625 / 79995
Lv.20: 71250 / 142500 / 118750 / 142500

Duration of Upgrade:

Lv.1:
Lv.2:
Lv.3:
Lv.4:
Lv.5:
Lv.6:
Lv.7:
Lv.8:
Lv.9:
Lv.10:

Lv.11:
Lv.12:
Lv.13:
Lv.14:
Lv.15:
Lv.16:
Lv.17:
Lv.18:
Lv.19:
Lv.20: